Floors
In most cases soundproofing floor is protecting downstairs neighbors from impact noise caused by footsteps, furniture moving, things dropped on the floor. Sometimes soundproofing floor is needed to isolate airborne noise from neighbors.
Materials and constructions depend on issue. There are 4 types of sound isolations: Sound Insulating Panel System, isolation under concrete screed «floating floor», isolation under floor finishes, joist floor. Our album of engineering solutions contains all types of construction.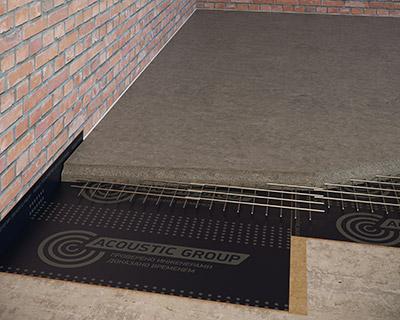 «Floating floor»
Simple construction. According to material it can isolate impact noise or both impact and airborne noise. Mounting takes much time (includes wet work). Wide range of materials allow you to choose optimal sound isolation level. The cheapest solution.
It's a classic type of soundproofing floor. The first layer is flexible sound isolation material. This layer also covers lover part of the wall. It's necessary to prevent contact between wall and concrete screed. The second layer is screed. In the result we have solid surface that floats on the soundproof layer. Impact noise can be reduced to 20-40 dB, according to the thickness of the layer. Shumoplast and special mineral wool plates can also isolate airborne noise and reduce its level to 7-13 dB.
Related materials: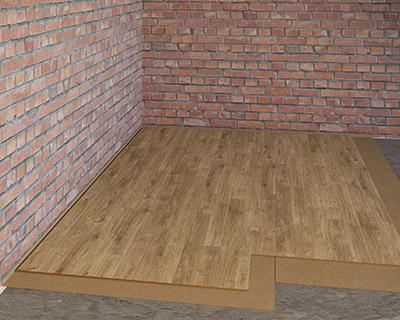 Isolation under floor finish
Only impact noise protection. Fast mounting. Dry work. Floor can be used immediately after mounting. Low soundproof characteristics.
Sometimes we need to save the volume of the room, so we can't make thick soundproof layer. In this case the only solution is isolation under floor finish (parquet, laminate, etc.). Soundproof layer covers the floor. Floor finish covers the first layer. Thickness is minimal in this case. But impact noise isolation level is minimal too, only 20 dB. But it's better, than nothing for your downstairs neighbors.
Related materials: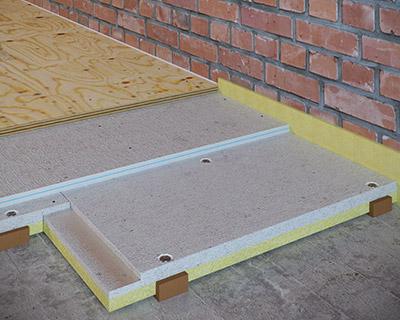 Sound Insulating Panel System – ZIPS Floor
Airborne and impact noise protection. Fast mounting. Dry work.
This system is used when you have no much time to make floating floor. ZIPS-Floor can be mounted in one day. You should wait for 24 hours after finishing the work. System includes 3 layers. First layer is made of ZIPS-Floor Vector(45mm) of ZIPS-Floor Module(75mm) panels. The second layer is Soundline-dB acoustic triplex(17mm). The third layer is plywood sheet(18mm). Impact noise reduction is 32-38 dB. General thickness of all three layers is 80mm or 110mm.
Related materials: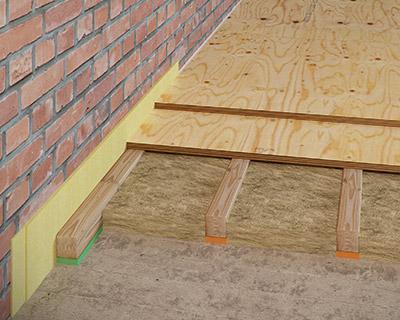 Joist floor
Optimal solution for wooden house. Impact and airborne noise protection. Fast mounting. Dry work. Floor can be used immediately after mounting.
Joist floor is often used in wooden houses or in situations when weight issue is critical. Mounted right this construction shows great results: 30 dB for impact noise and 8-10 dB for airborne noise. Wood joists lies on the Sylimer elastomer pads. Space between joists if filled with Shumanet BM/SK sound absorbing mineral wool plates. Joists are covered with two plywood sheets (18mm).
Related materials:
If you have any questions, ask our experts
Call us or our partners in your region

Also in our engineer department you can order:
If you have any difficulty with self-installation of sound insulating structures, you can use the services of certified construction crews or our special service "Supervision" (the offer is valid for some regions, please specify)